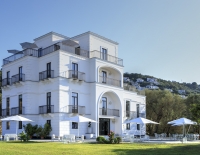 Many are the places in which you can find a good service, delicious products, quality and landscape. But we are able to add pleasure to those amenities.
THE PLEASURE OF HOSPITALITY.
An elegant and comfortable accommodation will welcome you, embracing you into a magical and personal milieu, among suggestive colors and lights. Each detail is designed to astonish, treat and seduce you: a bedroom is not just a place to stop by, it is a departing point for a journey into beauty.